Get started with the top SEO company in your industry
Strategy. Planning. Execution.
We use social ads to improve your social presence and generate interest in new product or service. We do this through Facebook Ads, LinkedIn Ads, Twitter accounts, Instagram, Pinterest or sponsored YouTube ads. When it comes to brand management, we will help you in finding and securing the best profiles and user names. Since we value your brand, our team of Facebook Ads Agency will always be ready to help you change customer problems into solutions so that you do not have any issue with customers and helps you to achieve your target goals.
Social PPC services allow you to showcase your brand product and services to your target audience.
Extend your reach to targeted customers to create awareness about your brand. Creating brand awareness is a priority for any business.
Drive qualified leads through PPC advertising for greater ROI.
Creating awareness about the app will create a buzz in the market, resulting in more installs.
Optimize your ads to channelize greater lead conversion.
When it comes to brand management, we will help you in finding and securing the best profiles and user names.
We employ blend of advertising activities to help you increase your web traffic.
Types of Social Media PPC
Leverage your all social media platforms for more credibility and recognition.
Facebook advertising
Twitter advertising
Social Remarketing
YouTube advertising
Instagram advertising
LinkedIn advertising
URL tagging
CRM integration
The initial step is to gather information about your business objective aligned with the audience needs.
Create a comprehensive advertisement campaign that clearly defines project deliverables and measurable business objectives.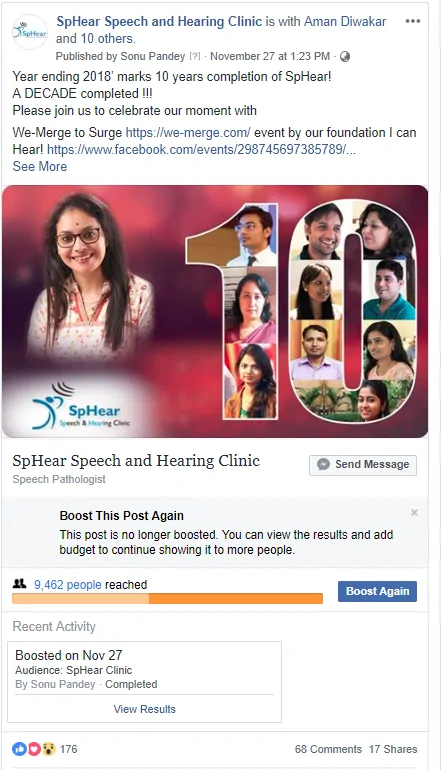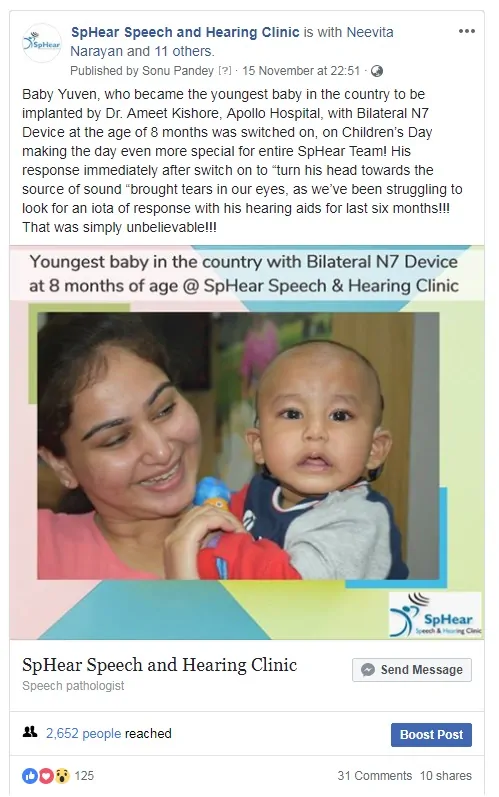 Youngest baby in the country with bilateral N7 Device at 8 months of age sphear speech and hearing clinic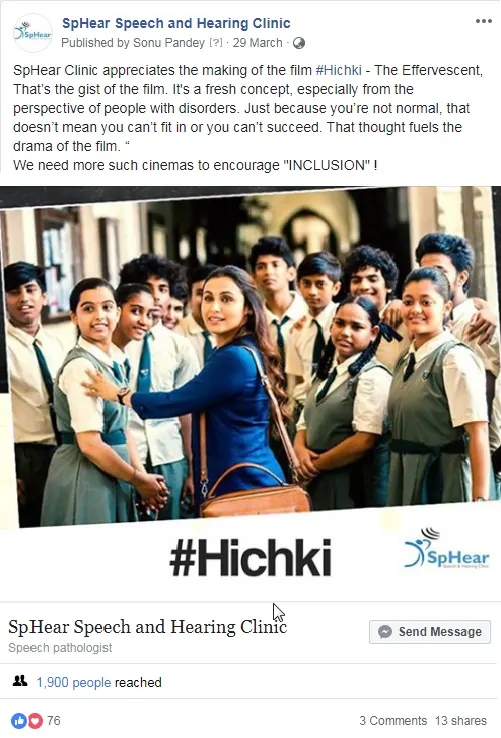 Social Media Ads Management & Maintenance
Monitoring and adjusting of a campaign based on the performance of keyword research and landing page.
Making web pages more attractive for users to engage with content is known as content optimization. We develop quality content services for your ad that perform and rank better. Moreover, attract customers to engage with the ad.
Invest in the keywords that produce results. Find, optimize, and refine keywords for better conversion rates.
 We analyse and report website data to generate through an ad campaign for the purpose of understanding and optimizing the use of advertisement.
Monitor progress through a collection of data that gives you an insight into the accomplishment of the PPC ad.
You're Social Media Marketing Partner you can Trust!
Creating & Re-creating the brand reputation, reach, strong online presence which you and Your Audience deserve by managing your Social Media. You focus on your business we will take care of your social Media.