Social Media Integration: Boost Your Online Presence for Engagement & Business Growth
Integrated Social Media Management
Not a social media profile yet? We provide complete suite of services from social media profile setup to integration services. Setting-up up a social media business profile is a first step to reach your audience. We create your personal or professional profiles and get your product and services listed for an audience.
Social Media Integration Services
With social media marketing, go beyond your website to engage your audience. Our experts can help you identify where and how to design a strategy to build your presence on social media. The social media platform allows business to share information and communicate directly with potential and existing customers. For example, you can use Instagram for business.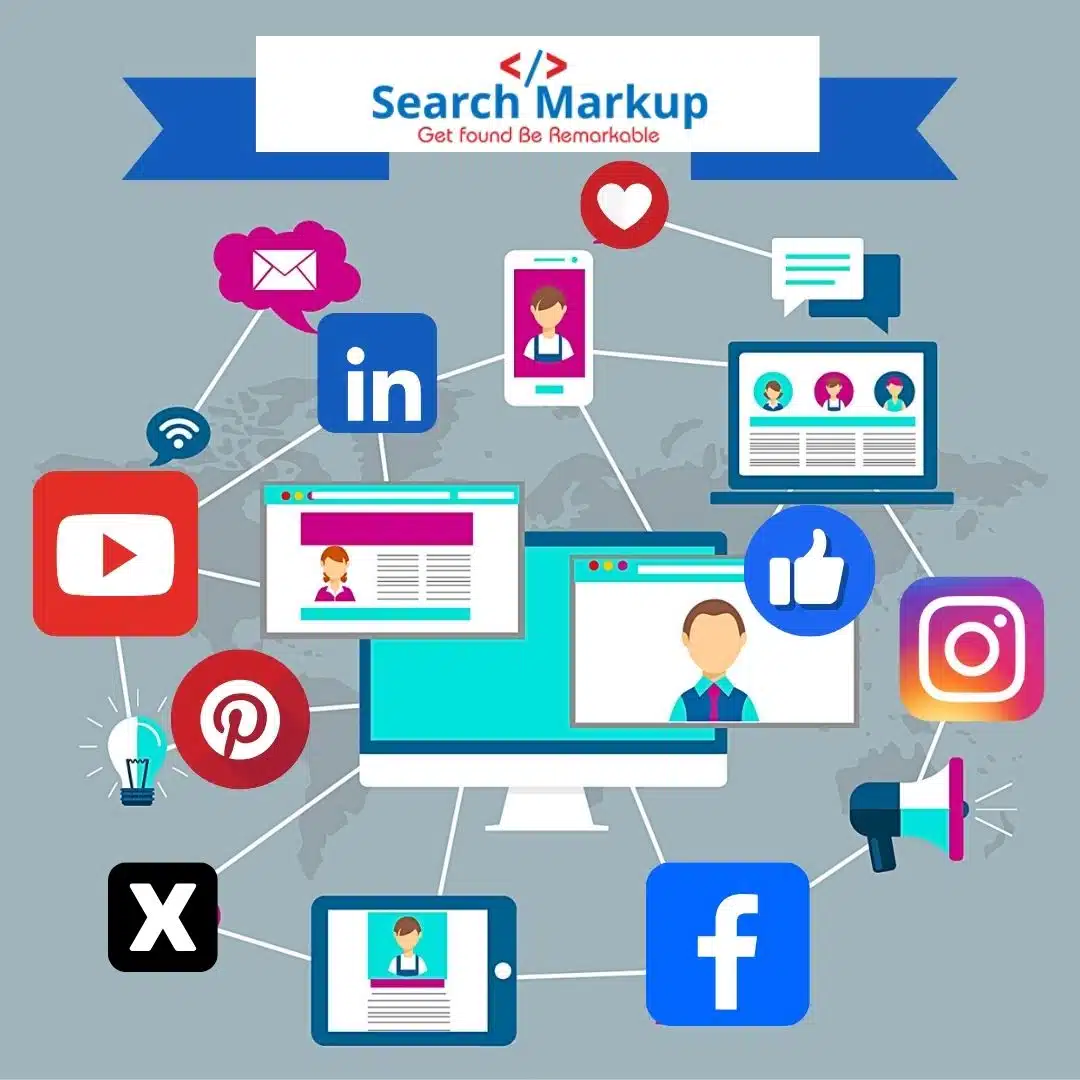 Why Search Markup for Social Media Integration Services
In an ever-evolving digital landscape, Search Markup stands as a beacon of expertise and innovation. We are a leading digital solutions provider that specializes in integrating social media into your broader marketing strategy. Our team is composed of seasoned professionals who have honed their skills in the crucible of real-world experience.
We understand that the world of social media can seem labyrinthine and complex. That's why we are here: to navigate this intricate maze on your behalf. Our mandate is clear and unambiguous – to provide you with a comprehensive, holistic approach to social media integration that aligns seamlessly with your business objectives.
The Importance of Social Media Integration
In today's hyper-connected world, social media is no longer just an optional extra – it's a necessity. With billions of users worldwide, platforms like Facebook, Instagram, Twitter now X, and LinkedIn offer unparalleled opportunities for businesses to reach out to their target audience, forge meaningful connections, and drive engagement.
However, managing multiple social media platforms can be a daunting task, especially when each platform has its own set of rules, algorithms, and user behaviors. This is where social media integration comes into play.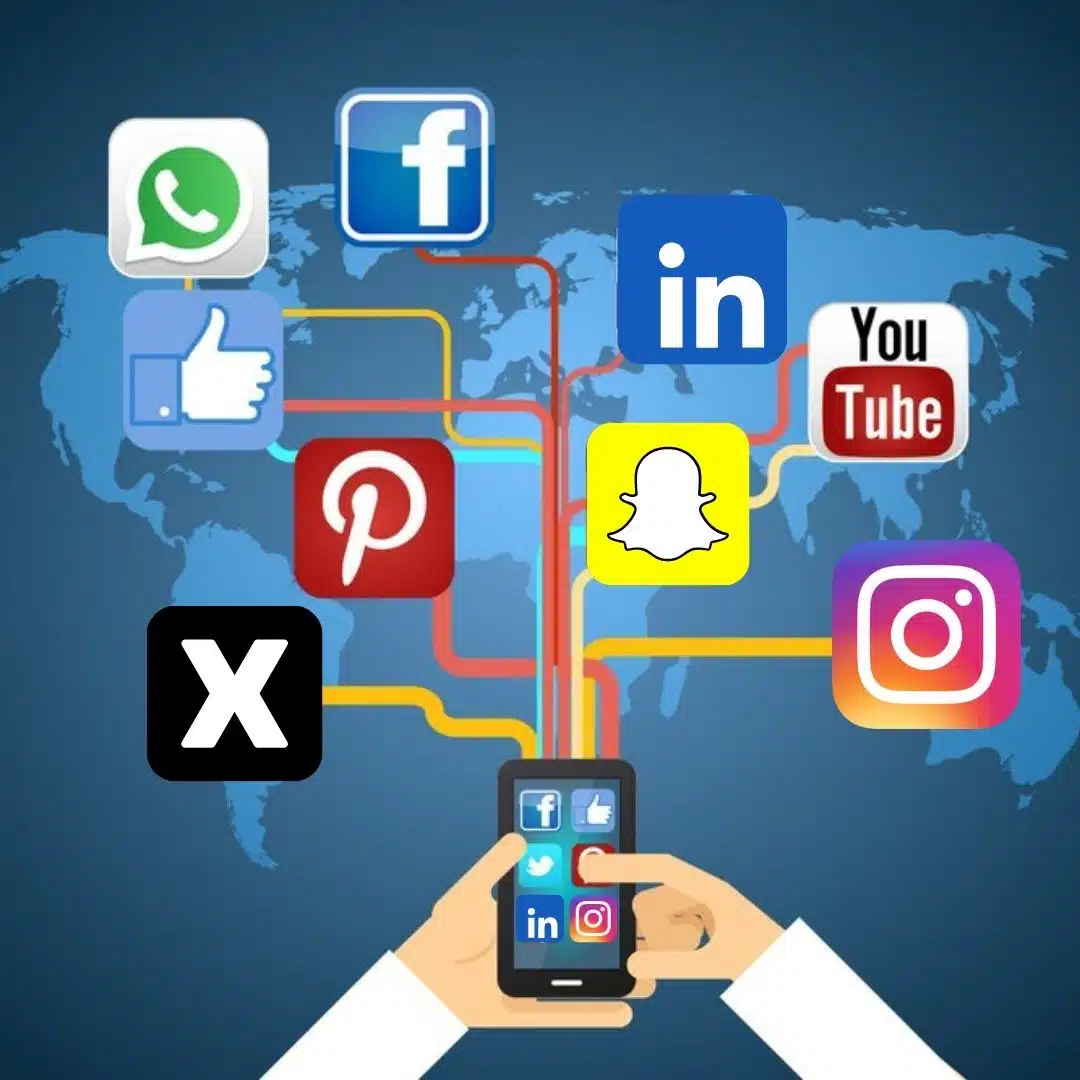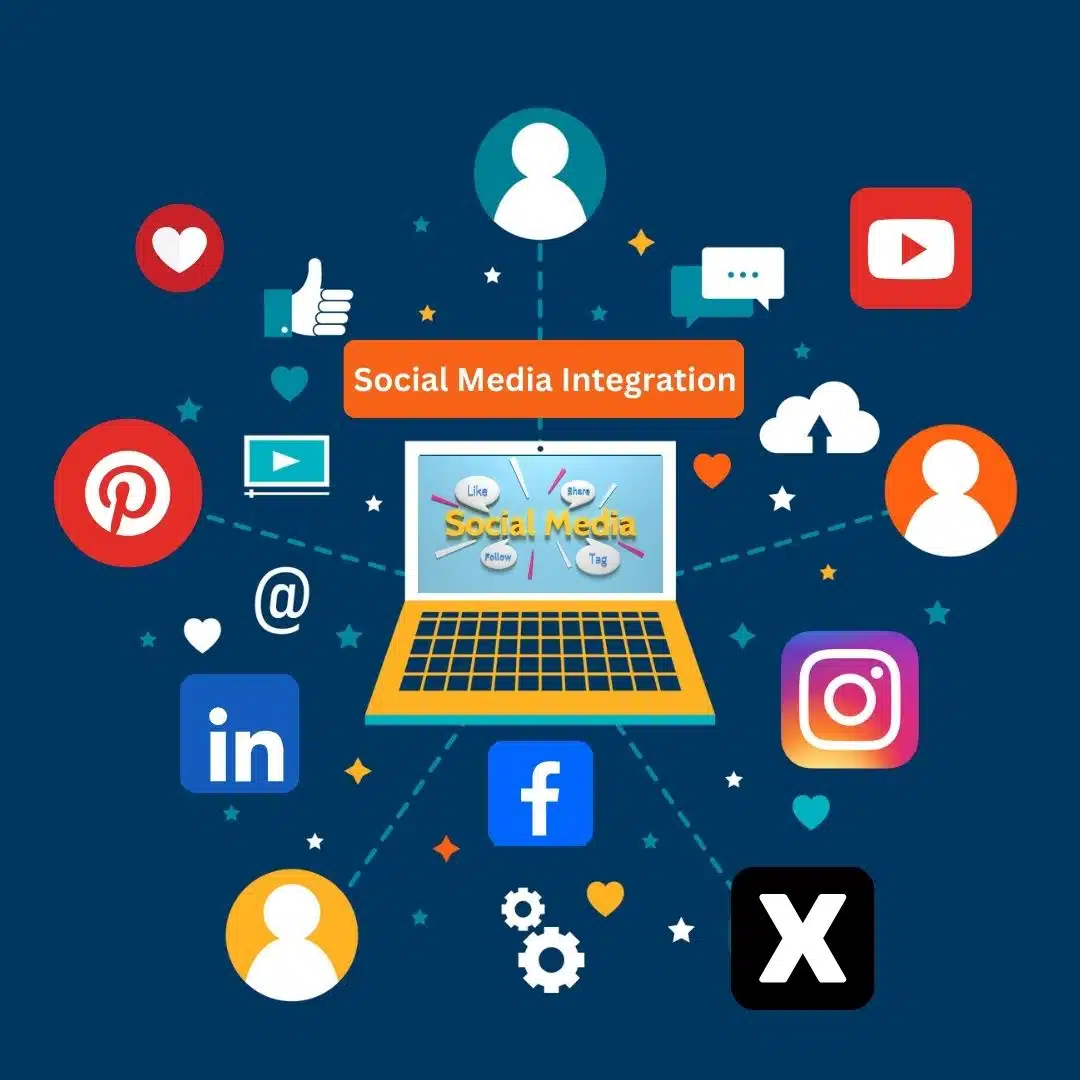 Social media integration is the process of syncing all your social media accounts so they work together harmoniously. It allows for consistent branding, unified messaging, and efficient management across all platforms. It's about creating a cohesive social media presence that amplifies your brand's voice and extends its reach.
The importance of social media integration cannot be overstated. It's a powerful tool that can propel your business to new heights. But without the right expertise and strategies, it can also be a minefield of missed opportunities and wasted resources. Let us help you harness the power of social media integration to its fullest potential.
Unique Features of Social Media Integration Services
At Search Markup, we distinguish ourselves in a cluttered digital landscape with an array of unique features that set our services apart.
Expertise Across Platforms
Our team of seasoned professionals has extensive experience managing diverse social media platforms including Facebook, Instagram, Twitter, LinkedIn, and more. We understand the unique characteristics, algorithms, and user behaviors associated with each platform and leverage this knowledge to maximize your brand's reach and engagement.
We believe in a bespoke approach to social media integration. By understanding your brand's objectives, target audience, and industry trends, we develop customized strategies that align with your business goals and resonate with your audience.
With our services, you can expect seamless integration across all your social media platforms. We ensure consistent branding, unified messaging, and efficient management, creating a cohesive and powerful social media presence for your brand.
We provide real-time analytics to track the performance of your social media strategy. This data-driven approach allows us to monitor trends, assess the effectiveness of campaigns, and make informed decisions to optimize results.
In the rapidly evolving world of social media, staying ahead of the curve is crucial. Our team is always on top of the latest trends, algorithm changes, and best practices, ensuring your social media strategy remains relevant and effective.
Our commitment to your success does not end with the implementation of a strategy. We provide ongoing support, continuously monitoring and adjusting your social media strategy as needed to ensure sustained growth and improvement.
Practical Benefits to Businesses
Implementing social media integration brings a host of practical benefits to your business. Here are some key advantages:
The Social Media Integration Process
In keeping with the gravity of this operation, our social media integration process is both meticulous and comprehensive. It's designed to ensure a seamless transition towards a unified social media strategy that bolsters your online presence and drives engagement.
Why Choose Search Markup for Social Media Integration?
In a digitally saturated market, the question arises - why select Search Markup for your social media integration needs? There are several compelling reasons that underscore our credentials and make us an ideal choice.
With years of experience in the digital marketing industry, we bring a wealth of knowledge and expertise to the table. We understand the intricacies of each social media platform and how to leverage them effectively to meet your unique business objectives.
At Search Markup, we do not believe in one-size-fits-all solutions. We take the time to understand your business, audience, and industry trends to craft personalized strategies. This bespoke approach ensures your social media presence aligns seamlessly with your brand identity and resonates with your target audience.
Our strategies are guided by data, not guesswork. We utilize advanced analytics to monitor performance, identify trends, and make informed decisions. This data-driven approach enables us to continually optimize your social media strategy for maximum impact.
We offer dedicated support throughout the social media integration process and beyond. Our team is always on hand to address any concerns, provide updates, and make necessary adjustments to ensure your social media strategy remains effective and relevant.
At Search Markup, we are committed to delivering results. We measure our success by your success, and we work tirelessly to drive engagement, enhance visibility, and boost conversions through effective social media integration.
Case Studies: Success Stories of Our Clients
Our work at Search Markup is best exemplified through the success stories of our clients. We have helped numerous businesses across various industries enhance their online presence, drive engagement, and achieve their objectives through effective social media integration. Here are a few examples:
Social Media Integration a Necessity
In an era where digital presence is paramount, effective social media integration is no longer a luxury but a necessity. It's crucial for businesses to present a unified brand image, deliver consistent messaging, and engage effectively with their audience across all social media platforms.

At Search Markup, we are uniquely positioned to assist you in this endeavor. Our industry expertise, personalized strategies, data-driven approach, dedicated support, and a firm commitment to results, sets us apart in the crowded digital landscape. We have a proven track record of success, as evidenced by our numerous client success stories.
Time is of the essence. The digital marketplace waits for no one. Act now to harness the power of social media integration and elevate your business to new heights. Trust us at Search Markup to guide you through this process with precision, professionalism, and a relentless focus on your success.
Frequently Asked Questions
In the interest of providing comprehensive information and addressing potential queries, we have compiled a list of frequently asked questions about our social media integration services.
Glossary of Technical Terms
To ensure you have a clear understanding of the technical terms associated with social media integration, we have compiled a glossary of key terms:
This refers to the process of linking your website with your social media platforms, enabling seamless interaction between the two and enhancing user experience.
SEO (Search Engine Optimization)
 A strategy used to increase the visibility of a website in search engine results pages. It involves optimizing website content and structure to make it attractive to search engines.
In digital marketing, traffic refers to the number of people who visit your website. High traffic indicates that many people are visiting your site, which can lead to increased brand awareness and potential sales.
Engagement measures the interaction between your business and your audience on social media. This includes likes, shares, comments, and other forms of interaction that users have with your content.
This refers to how easily your brand is seen and recognized by consumers. High brand visibility means that your brand is well-known and easily recognizable.
These are online sites where people interact and share content. Examples include Facebook, Twitter, Instagram, LinkedIn, Pinterest, and YouTube.
The specific group of people that your business aims to reach with its products or services. Your target audience typically shares certain characteristics like age, location, income, or interests.
This refers to how your business appears online. It includes your website, social media profiles, online reviews, and any other place where your business appears or is mentioned online.